This week, in our popular conversation course, The Italian Conversation Room, we talked about challenges for the future.
Many students mentioned global warming, people's health, and artificial intelligence.
A group discussed ChatGPT and how to use it in different ways.
So, I wondered:
Is it possible to use ChatGPT to learn Italian?
Well, I conducted an experiment for you!
Read until the end, and then let us know your opinion in the comments.
Let's get started!
What is ChatGPT?
ChatGPT is a chatbot that allows you to simulate a written conversation.
ChatGPT uses artificial intelligence to respond to users' questions.
You can ask the software any type of question, and the response is based on data and information available on the Internet.
There are various similar software, but this one is really gaining popularity lately.
The experiment: Can I learn Italian with ChatGPT?
1. Introductions
I introduced myself to ChatGPT as a student who wants to learn Italian.
My level is A2, and I asked the system to help me learn Italian.
ChatGPT said it would assist me.
After the introductions, the system provided me with some very general and vague directions (but still helpful):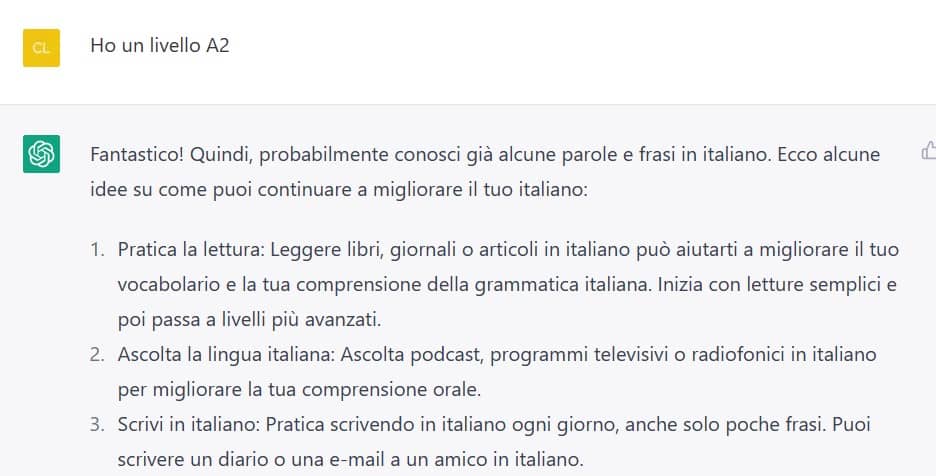 Practice reading, listening, writing… it's all true!
But I want more!
2. The specific question
Now I asked a specific question: can you explain the "passato prossimo" (present perfect)?
ChatGPT was very happy to help me and provided a long explanation… but not complete: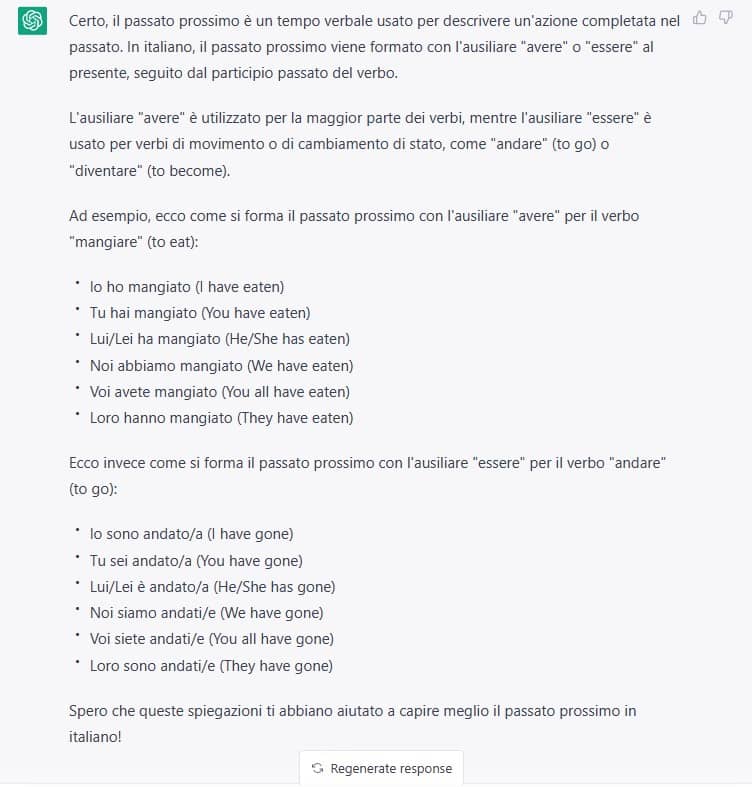 In short, it's all true, but something is missing, for example:
The difference between masculine and feminine, singular and plural, when the auxiliary is "essere" (to be).
Still, not bad.
3. The error test
So I asked: "Giulia è andato al mare?" (Has Giulia gone to the sea?)
The Chat's response was: no.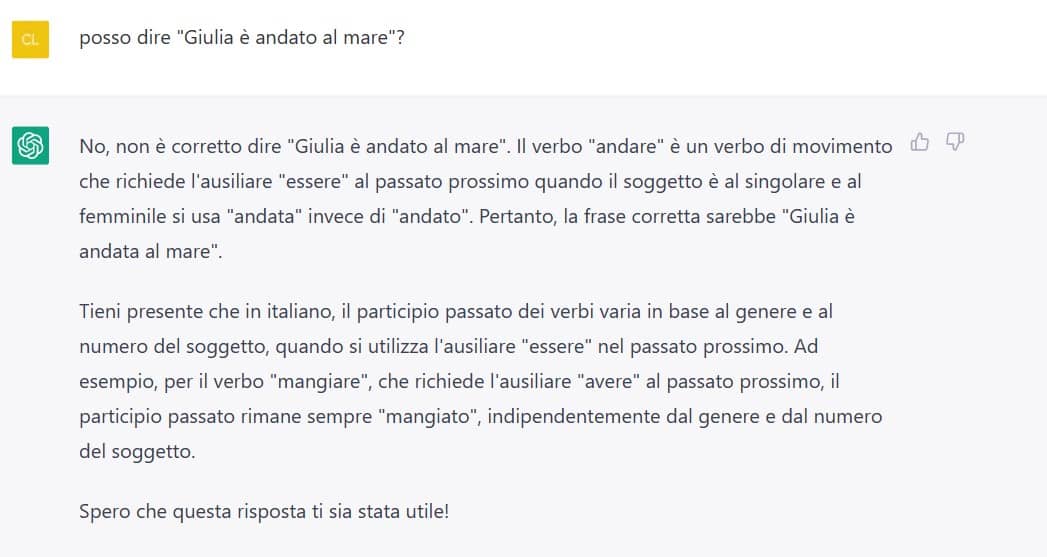 The response here was long but exhaustive.
Therefore, I asked the chat to rephrase it more simply.
4. The exercises
After testing the theory, I moved on to practice.
I asked the artificial intelligence to create exercises to put the theory into practice: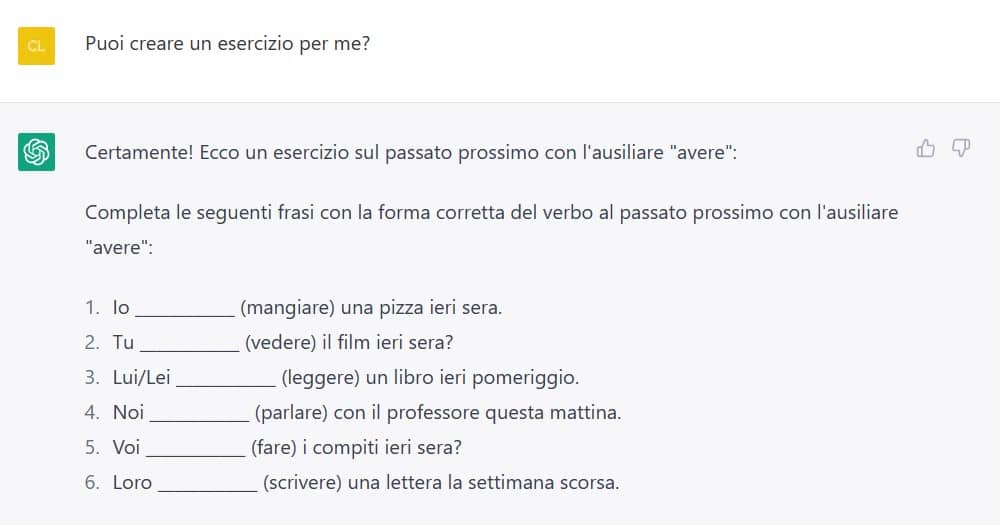 Here, I was pleasantly surprised!
I asked the artificial intelligence to create different types of completion exercises:
Verbs in the "passato prossimo" with the auxiliary "avere" (to have).
Verbs in the "passato prossimo" with the auxiliary "essere" (to be).
A combination of verbs in the "passato prossimo" with both "essere" and "avere."
Then, I asked the system to practice with a text rather than individual sentences. Even here, I was quite satisfied: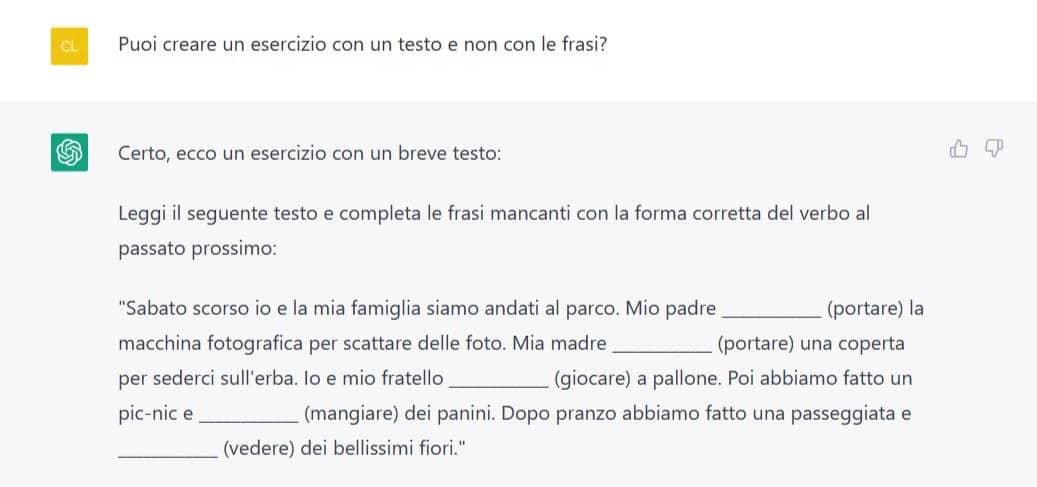 There were missing verbs with the auxiliary "essere"… but it's still fine.
Now, let's get to the sore point.
Here, the artificial intelligence actually went into panic mode.
I asked ChatGPT to create matching exercises, but I'm not happy with the result because:
There are no images: it proposed a matching exercise of words and images… without images.
In general, I wanted an exercise with verbs, but it proposed a vocabulary exercise.
5. The role-playing game
The interaction started well. The chat seemed willing to help me:

From here, the situation became really frustrating.
I had to insist and send many messages before creating a back-and-forth interaction.
Every response from Chat started with "As an artificial intelligence, I don't have a taste…" or "I don't have a preference," etc.
In short, it wasn't a very stimulating conversation.

What do I think?
Here's my Final Evaluation.
Certainly, in the future, I will continue my tests. However, based on my experiment and experience as a certified Italian teacher, these are the pros and cons that I identified with ChatGPT:
The pros
ChatGPT is great for:
Creating sets of exercises
Creating texts on topics that interest us
Asking for the meaning of words
Finding cultural resources, songs, books, movies, etc.
Asking grammar questions
Asking explanations like "is it spelled Sardegna or Sardenia"?
Creating vocabulary lists
Creating lists of adjectives and useful expressions
Having small interactions
The cons
ChatGPT is not suitable for:
Practicing oral dialogue: it definitely cannot substitute conversational Italian classes;
Interaction: it's not very interactive and this limits your Italian language immersion;
Motivation: it can be demotivating, especially when you need to repeat a question or are not provided with a complete answer;
Identifying typos: I made many typos while writing, but the system responded normally without recognizing them. This can impact your Italian grammar and overall Italian language proficiency;
Creating complete exercises: it can create some exercises, but not all, and it's limited, so it cannot substitute the exercises provided in an Italian language program by experienced Italian teachers;
Images: it doesn't use images even if they are important, especially if you are visual learner;
Links for videos and audios: they often don't work but we all know how essential they are for your Italian listening skills.
Overall, it is a good system but it certainly cannot substitute Italian language courses or Italian lessons that provide the right level of personalization and motivation. Our suggestion is to find the best Italian language school based on your needs and then to integrate your experience with AI systems such as ChatGPT.
Your experience
Have you ever used ChatGPT for learning Italian? If so, how was your experience?
Let us know in the comment section below or reach out to us on our Social Media accounts: Instagram and Facebook.
Keep following our blog and social media accounts for more posts on Italian language learning.
Are you looking for Online Italian Language Classes focused on actively practicing the language? Join our school here.
My Italian Room – Clara&Martina